Projects

1) The Building: if you build it, they will come…
The music project began without a building. Sixty-four students were selected for the November 2011 music camp held at Father Gerard's Environmental Center. Over 120 children applied. Another sixty-six kids attended the Summer 2012 music camp, but the center has limited time and space.
In October of 2012 the official music school "Ecole de Musique Nick Contorno des Gonaives" began with 150 students. Music theory classes are currently held on the premises of La Sainte Famille every Friday after school from 3-5pm and Saturday mornings from 9am-noon.
However, larger classrooms designed for music classes and with greater availability are desperately needed. EMNCG needs their own building, especially if they want to join "El Sistema" because in that program music classes are held daily, which is not possible at the current location.
GOAL: To raise USD 100,000
75,000.- to build a two-story music school and
25,000 to purchase the land
Update: Thanks to generous donations from Christmas 2012, Musical-Haiti was able to send USD 12,500 to Father Gerard to purchase half the land needed for the future music school building. The land is under Father Gerard's name and tagged for EMNCG.
Help us reach 25,000
to purchase the
second half!

Purchased half of
necessary land
(Fall 2012)
a) EMNCG needs a band room
The only room at La Sainte Famille large enough to hold all the band members is in the church itself. But it has heavy wooden pews and other obstacles, and the church is used for community gatherings of all kinds, so it doesn't serve well as a band room. Currently, the kids practice out in the school yard and it is very hot in the sun.
b) EMNCG needs practice rooms
There is no glass in the windows of La Sainte Famille. It is all open-classrooms. The children often learn by recitation because of the lack of paper and pens, so music cannot be practiced in the schoolyard during normal school hours. The children are not allowed to take instruments home with them for fear they may be lost or stolen. How can they practice?
c) They need a safe storage area for the instruments
The hurricanes of 2004 and 2008 left behind mud 6 feet deep on the first floor of the school buildings. The new music school must be earthquake safe and have a second story where the music instruments can be stored safely.
Update: During our 2013 visit to the school La Sainte Famillie in Gonaives, we outfitted a twenty-foot metal container outdoors and an upstairs bedroom indoors with shelving to accomodate the 260 larger instruments. This temporary solution provides safety for the current instruments, but cannot expand with growth.
d) They need a room for keeping their music traditions alive
In addition to storing instruments, the second story could serve as a practice room for the traditional Compass music of Haiti. Entire drum sets and keyboards could be left standing. The room could also be used for djembe / tambour drum practice.


2) The Music School: a work in progress
Financing
Amount donated until now:
Financing 2011
$ 1,000
Financing 2012
$ 9,430
Financing 2013
$ 14,300
Financing 2014
$ 14,200
Financing 2015
$ 5,000
The Financing:
When Tanya visited Haiti in November of 2011, she left behind 1000 dollars donated by a few generous patrons. This money was to help the school get started, to help them pay for a visit to other music schools to gain more knowledge and make important connections. After that we set a goal to help EMNCG start up the music school:
GOAL: 10,000 dollars a year for 4 years (2012-2015)
Update: In both 2013 and 2014 USD 10,000 were sent to Haiti to cover the EMNCG budget (including teachers' salaries), another USD 2200-2300 to pay for the music teachers to attend summer music training in Cape Haitian and another USD 2000 to pay for the EMNCG summer music camp for the kids.
a) Salaries for the executive committee and the teachers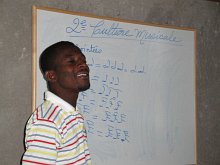 In the USA and Switzerland, our taxes support the school system and pay for teachers. Because it is an important drug-smuggling hub from South-America to the United States, the Haitian government has been toppled again and again, often with suspicious "help" from other countries. The government provides very limited funds for public services such as roads, sewage or garbage collection. Local people have to pay for schools mostly out of their own pockets.

The school needs funding to pay a yearly salary to the 5 executive committee members and the 6 teachers...and hopefully more teachers in the future.
b) Office supplies
Supplies are virtually non-existent. The executive committee has requested 6 laptop computers up to four years old in order for each of the members to keep records. Paper and pens are hardly available, but a computer would also give them access to a network of musicians…and the rest of the world. They also need a printer for those documents that must be filed in paper form, such as contracts that need to be signed.

Update May 2013/14: Thanks to the Rudolf Steiner School in Geneva, 10 laptops are on their way to EMNCG. Paula Iten took two laptops with her on her visit to Gonaives (April 2013) and the other eight were sent with the August 2013 container...more computers are always welcome! The computers from the Rudolf Steiner School in Geneva arrived safely October of 2014 (after long holding in customs). They were distributed to the grateful music teachers.
c) Travel costs
In addition to salaries, the employees of the school would like to be able to take field trips in order to gain skills as music teachers and administrators.
Update: In both the summers of 2013 and 2014, 7 music teachers attended advanced teachers training at the CEMUCHA music camp, Haiti. Additional funds were sent to cover these costs.
d) Music Camp
Each summer, EMNCG would like to hold a music camp for the students. The 2011 and 2012 summer music camps were held in Le Bassin at Father Gerard's environmental center. To save on costs, the 2013 summer camp was held at La Sainte Famille. Father Gerard's center holds only 66 children maximum and with 150 students it is more difficult to provide meals and sleeping provisions. La Sainte Famille is not as much "fun" for the kids because they sleep at home and only one midday meal will be provided, but music is the main focus and this way more children can be involved while keeping costs down.
e) Support Locally
From December 17th, 2012 to February 26th, 2013, Tanya and Hansjakob Schmid went to Gonaives to assess the needs of the music school and assist wherever needed. Here are Tanya's "letters home" during their stay. They reveal the harsh reality of working in a developing country.
3) Instruments and music materials: goal accomplished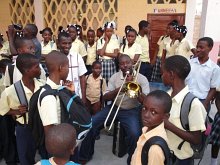 During a speech Tanya made in the school courtyard (2011), introducing the new music school, she asked all the children watching, "Who would like to learn to play a music instrument?" In less than a second 1700 little hands went up. Tanya said, "I think we are going to need a few more instruments…"

There are currently over 1200 instruments donated by our project in use in Haiti. That may sound like a lot but more than half of them are the wooden recorder flutes essential for beginners in the music program. In addition to the 1700 children at La Sainte Famille, there are many other schools, church groups and organizations who are in need of instruments.
Update: In January of 2013, Tanya met with 12 leaders of the 22 other music schools which belong to the national music organization in Haiti. In addition to upgrading the instruments at EMNCG, Musical Haiti decided to collect instruments to support the 5000+ other children in music schools all accross Haiti. Some schools taught only music theory because they didn't have a single music instrument...not even a recorder flute. We managed to change that. In October of 2014, 236 large instruments arrived at the ANADEMH headquarters in Jacmel and were distributed to over a dozen small music schools throughout Haiti to help underprivileged children.
Here is what we have sent over: Instrument packing lists
Futher transportation of music instruments is very limited at the moment (please contact the Musical-Haiti office in Switzerland or the USA for current status). If you wish to donate a music instrument or supplies, please give us the option to sell that instrument and send the money, in its entirety to EMNCG.

4) Other items we have provided while shipping instruments:
We also accomplished our goal to provide additional assistance to the community in ways which compliment the other goals of the music school and improve the lives of the children. In the above 5 containers we also sent the following:
Summer clothing, towels and sheets in good condition (used to pack instruments)
Toys for small children
Sports equipment: basketballs, soccer balls, jump-ropes, badminton, bicycles
School supplies: Notebooks, pens, crayons, pencils, sharpeners
Office supplies and office furniture
Tools: from tools to fix instruments to those to fix cars and do gardening